Nordic Dance Ensemble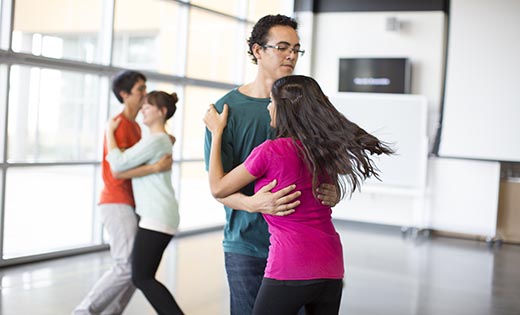 The UC Merced Nordic Dance Ensemble is a dance group under the direction of ethnomusicologist David Kaminsky. The two-credit course (ARTS 31d) is open to all UC Merced undergraduates without prerequisite, and repeatable for credit. Students learn traditional partner and group dances of Sweden and other Nordic countries, such as waltz, schottische, polska, polka, engelska, and minuet (repertoire may change from semester to semester). The ensemble also arranges regular Nordic Folk Dance Parties both on and off campus, at which these dances are taught to guests. The group collaborates closely with the Nordic Music Ensemble.
About the director: David Kaminsky studied Dance Pedagogy at the Eric Sahlström Institute for Folk Music and Dance in Tobo, Sweden, under the direction of Andreas Berchtold and Ingrid Frykmo. He is currently researching a book on partner dance dynamics.
Next offered: Fall 2017