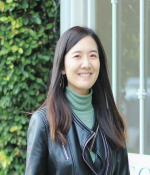 Professional Title:
Assistant Professor of Writing Studies
Office Hours:
Spring 2021: Tuesday & Thursday 12:00pm to 1:00pm
Specializations:
Multilingual writing development and assessment
Second language acquisition & bilingualism
Corpus linguistics
Systemic functional linguistics
Research methods in applied linguistics
Language assessment in classroom and high stakes settings
Bio:
Yiran Xu received her Ph.D. in Applied Linguistics from Georgetown University in 2020, and her M.A. in Educational Studies from the University of Michigan, Ann Arbor in 2014. She joined the Department of Global Arts, Media, and Writing Studies in 2021as a specialist in multilingual writing. As an applied linguist, she takes a transdisciplinary approach that integrates theories and practices in Second Language Acquisition (SLA), Systemic Functional Linguistics (SFL), and Corpus Linguistics to the investigation of writing complexity development among multilingual writers in instructed contexts. Her recent longitudinal study examines how international lawyers develop academic legal discourse in a Master of Laws (LL.M.) program in the U.S. Her work has been published in System, The Routledge Handbook of Second Language Research in Classroom Learning, and Language and Education.