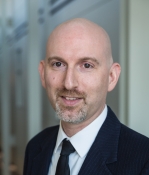 Professional Title:
Professor of Music and Dance
Specializations:
Social Partner Dancing
Folk music and dance in Sweden
Bio:
David Kaminsky is an ethnomusicologist with interests in music and dance as they relate to issues of cultural ownership, social power, race, class, gender, sexuality, and national identity. He works on folk music and dance in Sweden, and on social partner dancing in Sweden and the United States. He is the only American ever to be honored with the title of National Folk Musician of Sweden. Kaminsky received his bachelors in music from Macalester College in 1997, and his Ph.D. in ethnomusicology from Harvard University in 2005. He has also studied folk dance pedagogy at the Eric Sahlström Institute in Tobo, Sweden. Before coming to Merced, he taught at Earlham College, The McNally Smith College of Music, The College of William and Mary, Harvard University, and Tufts University. Kaminsky joined UC Merced in 2012. At UC Merced he has worked on developing the curriculum for the Global Arts Studies Major, and on innovative new ways to teach music theory within that curriculum. He also serves as director of the UC Merced Hop Cats. Kaminsky's most recent book publication is a general theory of partner dancing entitled Social Partner Dance: Body, Sound, and Space (New York: Routledge, 2020), the first chapter of which can be downloaded here. His current research project is a study of modern blues dancing. You can read his blog on media literacy and politics at  https://pop-o-litics.com.