David Kaminsky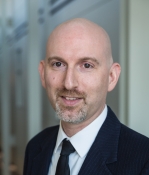 Title
Associate Professor of Music
Office Hours
Spring 2019: W 1:15-3:15pm
Specializations
Cultural ownership of music and dance
Music, dance, gender, and sexuality
Music and social power
Music, dance, and national identity
Folk music and dance in Sweden
Bio
David Kaminsky is an ethnomusicologist with interests in music and dance as they relate to issues of cultural ownership, social power, race, class, gender, sexuality, and national identity. He works on folk music and dance in Sweden, and on social partner dancing in Sweden and the United States. He is the only American ever to be honored with the title of National Folk Musician of Sweden (Riksspelman).
Kaminsky received his bachelor's in music from Macalester College in 1997, and his Ph.D. in ethnomusicology from Harvard University in 2005. He has also studied folk dance pedagogy at the Eric Sahlström Institute in Tobo, Sweden. Before coming to Merced, he taught at Earlham College, The McNally Smith College of Music, The College of William and Mary, Harvard University, and Tufts University. 
Kaminsky joined UC Merced in 2012. At UC Merced he has worked on developing the curriculum for the Global Arts Studies Major, and on innovative new ways to teach music theory within that curriculum. He also serves as director of the UC Merced Hop Cats (Swing Dance Ensemble).
Kaminsky is currently writing a book on social partner dancing.
2015. "Introduction: The New Old Europe Sound." Ethnomusicology Forum 24(2): 143–58. [Free] [Published]
2015. "'Welcome To Räfven Village': On Musical Claims to Multicultural Identity." Ethnomusicology Forum 24(2): 181–203. [Free] [Published]
2014. "'Just Exotic Enough': Swedish Chamber Klezmer as Postnational World Music and Mid-East Proxy." Ethnomusicology 58(2): 254–77. [Free] [Published]
2014. "Total Rhythm in Three Dimensions: Towards a Motional Theory of Melodic Dance Rhythm in Swedish Polska Music." Dance Research 32(1): 43–64. [Free] [Published]
2012. "Keeping Sweden Swedish: Folk Music, Right-Wing Nationalism, and the Immigration Debate." Journal of Folklore Research 49(1): 73–96. [Free] [Published]
2012. Swedish Folk Music in the Twenty-First Century: On the Nature of Tradition in a Folkless Nation. Lanham: Lexington Books. [Library] [Publisher]
2011. "Gender and Sexuality in the Polska: Swedish Couple Dancing and the Challenge of Egalitarian Flirtation." Ethnomusicology Forum 20(2): 123–52. [Free] [Published]
2007. "The Zorn Trials and the Jante Law: On Shining Musically in the Land of Moderation." Yearbook for Traditional Music 39: 27–49. [Free] [Published]