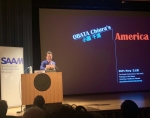 Professional Title:
Professor of Art History/Visual Studies
Specializations:
20th century American Art in a global context
Asian American Art
Museum and curatorial studies
Photography and film
Bio:
Professor Wang's scholarship has focused on rediscovering and examining pre-WWII American art and visual culture produced by diasporic artists of Asian descent. A 2014 Terra Foundation for American Art Senior Fellow at the Smithsonian American Art Museum, he received the museum's 2008 Patricia and Phillip Frost Essay Award for his essay in American Art, the museum's academic journal, and joined its editorial board in 2018. His second book, The Other American Moderns. Matsura, Ishigaki, Noda, Hayakawa (Penn State University Press, 2017), won the Georgia O'Keeffe Museum 2018 Book Prize. In addition, Wang has authored two more books: Becoming American? The Art and Identity Crisis of Yasuo Kuniyoshi (2011); and Chiura Obata: An American Modern (2018), an exhibition catalogue published by the University of California Press to accompany a retrospective of the same name that he curated. The exhibition, organized by UC Santa Barbara's Art, Design & Architecture Museum, toured internationally to five museums in the U.S. and Japan, including a six-month display at the Smithsonian American Art Museum (November 27, 2019—May 25, 2020).