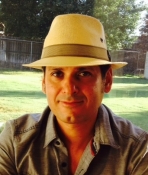 Professional Title:
Continuing Lecturer in Visual Arts
Specializations:
Figure Drawing/ Painting
Museum Copying
Chicano Art
19th Century Realism
Murals
Bio:
Richard Gomez is a Chicano artist and instructor who follows in the tradition of the Great Masters, specifically those of the 19th century Realists. His philosophy on art reflects his many influences; he teaches that painting is very much a science whose precepts must be understood in order to make it an art. Gomez is deeply indebted to those who came before him, and feels a special connection to the European and American masters of the mid- to late 19th century, whose loose strokes and sound drawing are prevalent in his own work. His academic training is balanced by his roots in Mexican and Chicano art, which allow his own art a certain freedom in its conception and a radical purpose at its core. Gomez received his B.A. from the University of California, Santa Barbara, and his M.F.A. from the Academy of Art University, San Francisco. He spent the summer of 2006 studying at the Ateliers du Carrousel les Arts Decoratifs in Paris. Gomez is an avid copyist, working both in the Louvre and the Legion of Honor in San Francisco.