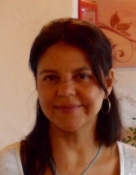 Professional Title:
Assistant Professor of Music
Specializations:
Popular Music in Latin America
Jazz
Music, class, race, and gender
Music, memory, and affect in contexts of violence
Spatial and musical mobilities, globalization, and music industries
Coloniality, nation building, and music in Latin America
Bio:
Patricia Vergara received her Ph.D. in ethnomusicology from the University of Maryland, College Park in 2017. Her research examines the routes of Mexican corridos (narrative ballads) to and across Colombia from the 1930s to the present through processes that emerged in contexts of political violence, rural-urban migrations, and changing technologies of musical production and distribution. Situating the emergence of Mexican-inspired music practices in relation to the consolidation of Colombian national and regional styles throughout the twentieth-century, her work outlines the ways in which modes of listening are constituted discursively and affectively, revealing deep rifts between official constructions of citizenship and popular sentiments of belonging among Colombians disenfranchised by many forms of everyday violence. Vergara contributed a chapter to the edited volume La Música Norteña Mexicana, published in 2014 by Mexico's National Institute of Anthropology and History (INAH), and has presented her work at national and international conferences. In 2015, her paper "'It arrived by train!'" From Carrilera to Corridos Prohibidos: Mexicanness, Mass Media, and Musical Identities in Colombia" won the prize for best paper in a Latin American topic presented at the Society for Ethnomusicology's annual conference, awarded by the Latin American and Caribbean Section of the Society for Ethnomusicology (LACSEM). More recently, Vergara was the recipient of the Mid-Atlantic Chapter of the Society for Ethnomusicology's 2017 Hewitt Pantaleoni Prize for her paper "Listening to 'Corridos' and The Politics of Remembering in Times of War and Multiculturalism in Colombia." A pianist and accordionist, Vergara holds a Bachelor of Music in Jazz Piano Performance from Berklee College of Music and has toured and recorded in the U.S., Europe, and Brazil performing in a variety of Latin American music genres, jazz, and popular music styles. Before coming to UC Merced, she taught at the University of Maryland, College Park, Towson University, The College of William and Mary, and Montgomery College.