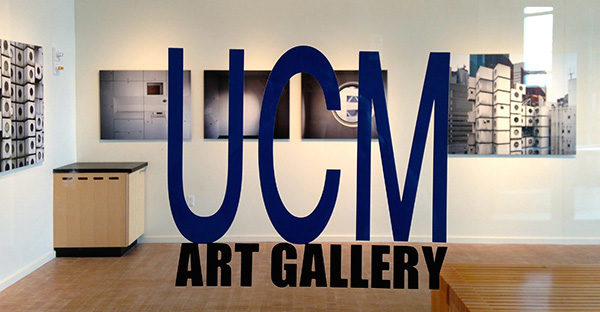 From an empty room to a beautiful space that features thought-provoking and multimedia exhibitions, the UC Merced Art Gallery has become a vibrant place for aesthetic, cultural and intellectual exchanges on our campus. Founded in 2011 by UCM Professor ShiPu Wang, the UC Merced Art Gallery began a program with the intention of making art more accessible to the local and campus community. Since then the gallery has hosted countless exhibitions featuring the art of local, national and international artists. Under the guidance of the gallery's executive director (2014-16), Tonya Lopez-Craig, UC Merced student curators and gallery interns assist in installation and promotion of the exhibitions. 
Hours: Mon-Thurs, 11-3pm
Location: The UCM gallery is located in north campus in the Social Sciences & Management building (SSM) in room 106.
Parking: Visitor parking permits may be obtained from the permit dispensing machine in Lake Lot 1 and 2, Evolution Valley lots and visitor spaces in Library Lot 1. Visitor permits are only valid in the lot from where they are purchased.  Once parked, place your permit in your car window, and then walk up Scholars Lane. After you pass the New Beginnings statue and cross Ansel Adams road, you will see our building SSM (Social Sciences and Management) on your right. The second entrance is the gallery.
To connect with the gallery, receive future updates, and see more photos of past events, click on the exhibits or visit us on Facebook. Here is a list of shows and events:
EXHIBIT DATES
EXHIBIT TITLE
2016-2017 Academic Year (subject to change)

April 10-May 4, 2017
March 2017

Feb 6-March 23, 2017
Nov 8-Feb 2, 2017
Nov, 2016

Sept 8-Nov 3, 2016

12th Annual Bobcat Art Show
Presentation and workshop by Artist in Residence Olga Diego (specific date and location TBA)
Olga Diego: Artist in Residence Exhibition
Atul Bhalla: You Always Step into the Same River
Presentation and workshop by Visiting Artist Guan Zhi (specific date and location TBA)
Guan Zhi: Water and Ink
2015-2016 Academic Year

April 4 to May 3, 2016
Feb 22 to March 17, 2016
March 8, 2016

Nov 16 to Feb 11, 2016
Sept 14 to Oct 21, 2015

11th Annual Bobcat Art Show
Christopher Viney: In Earth's Shadow
Public talk by Visiting Artist Atul Bhalla: "You Always Step into the Same River"
Hmongstory 40
David Medley: Medley's Machines & More

2014-2015 Academic Year

April 6 to May 5, 2015
March 13, 2015

Feb. 9 to March 20, 2015
Nov. 10, 2014 to Jan. 29, 2015
Oct. 8 to Oct. 27, 2014
Sept. 8 to Oct. 2, 2014

10th Annual Bobcat Art Show
Public seminar by Visiting Artist Ann Johnston: Intro to Dye on Fabric
The Contact: Quilts of the Sierra Nevada by Ann Johnston
Sita Kuratomi Bhaumik: Selfie Determination
Luis Roberto Vasquez: Self Conquest
Karen LeCocq: Nature Abiding
2013-2014 Academic Year
April 7-May 7, 2014
March 11, 2014

Nov 4-March 11, 2014

9th Annual Bobcat Art Show
Public lecture by Professor Kathleen Cleaver: Black Power, Black Panthers & Community Revolution
Black Power*Flower Power. Photographs by Pirkle Jones and Ruth-Marion Baruch
2012-2013 Academic Year
April 1- May 2, 2013
Feb 7, 2013
Feb 7-Feb. 28, 2013
Nov 5, 2012
Nov. 5, 2012-Feb. 1, 2013
8th Annual Bobcat Art Show
Lecture by Artist Noritaka Minami
Noritaka Minami: Future Anterior: Selected Works from '1972'
Living with the Memory: A Colloquium
Living with the Memory. Photographs by Susan Latham
2012-2013 Academic Year
March 19-April 27, 2012
Feb 7- Feb. 23, 2012
Nov 14-Dec. 8, 2011
Oct 3-Oct. 28, 2011
7th Annual Bobcat Art Show
A Participatory Art Project: Dreams
Photographs by UCM Students: Our Merced
Select art from UCM Art Faculty and Art Students: UC Merced Art Gallery Inaugural Exhibition